Charlie Bears
Best Friends Club
If you love Charlie Bears, you'll want to join their Best Friends Club.
Available to both U.K. and non-U.K. members.
You'll find details here and a link (towards the bottom of the page)
to Charlie Bears Direct where you can sign up for membership.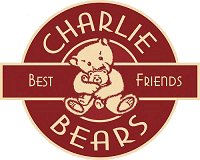 This year's Club Membership Benefits include:

2018 Charlie Bears Collector's Catalogue
Charlie Bears Best Friends Club Badge (special badge for 5-year members)
Charlie Bears Best Friends Club Membership Card
Sneaky Peeks & Secrets Magazine Issue 1 (sent with your membership) and then Issue 2 (sent later in the year)
A Paw-let Sentiment Card
The Bearhouse Gallery leaflet

£5

Gift Voucher (sent with your birthday card) to spend at the Bearhouse or on Charlie Bears Direct

Birthday and Christmas cards from Charlie and the team
Key to Charlie's Secret Cupboard, a fabulous world of exclusive offers
The 2017 Membership year runs from
May 1, 2017 through April 30, 2018.
The membership fee for U.K. collectors is £15;
for International (non-U.K.) collectors it is £20.
U.K. members can pay by cheque or credit card,
International members by credit card or PayPal only
through Charlie Bears Direct.

Exchange rates change on a daily basis
but to give you an idea of the membership fee in U.S. dollars,
as of July 5, 2017, £20 = approximately $27.

Ready to join?
Go to Charlie Bears Direct
(click here)
set up an account (if you haven't already)
and add the Club Membership
to your Shopping Cart.
Make sure you choose the International Membership
if you are not in the U.K.

Charlie Bears Direct is the easiest way to apply,
but if for some reason you can't use that website,
you can always file a paper application.